SKYPE sessions now available!
Stay in the comfort of your home!
Let me help you to have the best health & well-being of your life!
I believe that anyone can stay healthy with awareness of lifestyle, exercise and good nutrition. Relax-Release-Renew ... Body-Mind-Spirit
My holistic approach and working with ancient breathing techniques has proven to help people of all ages attain optimal health and well-being. I specialize in the "Relaxation Response", a state of extreme relaxation where optimum healing is possible.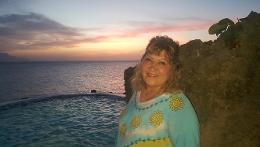 [Rev.] Maggie
"Mahtlactli Malinalli"
"Twin Healing Ivy"
Toltec initiated name in ancient Nahuatl language
"People will forget what you said, people will forget what you did, but people will never forget how you made them feel." -- Maya Angelou
Client Testimonials ...
"You have the hands of an angel." B.P. [Durham]

"That was an hour and a half of absolute bliss." N.W. [Hanover]

"I've had other massages, but I have never ever been this relaxed before!" H.K. [Walkerton]

"That was absolutely amazing!" B.L. [Hanover]

"That was MAGNIFICENT!" S.B-R. [Hanover]

"I don't know what you do or how you do it but you make me feel wonderful." C.C. [Walkerton]




Read more client Testimonials ....
Medicus curat natura sanat - literally means "the physician treats, nature heals" -- Hippocrates [460 B.C.]